The S2 through S5 sets are now available
Updated 6.28.10

(see INTEL)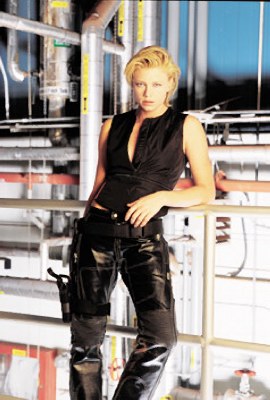 "I was falsely accused of a hideous crime
and sentenced to life in prison.
One day I was taken from my cell
to a place called Section One,
the most covert antiterrorist group on the planet.
Their ends are just, but their means are ruthless.
If I don't play by their rules, I die."
LA FEMME NIKITA FOREVER! is dedicated to the groundbreaking USA Network cult classic action series that ran from 1997-2001. It also contains information on the two feature films that preceded the television series -- Luc Besson's La Femme Nikita and the American remake, Point of No Return.

In the
Intel
section, I'll do my best to keep you updated on all the latest LFN-related news.


My goal is to make
The LFN Encyclopedia
the most comprehensive resource of its kind anywhere. From "abeyance missions" to "Z-screens," the entire Nikita Universe will be at your fingertips.


Find out about the 100+ songs used in the series in
The LFN Songbook
.


Don't miss the detailed
Episode Guide
,
The Archives
(articles and interviews) and
Images
(including a visual tour of Section One).


In
Season Six
I've taken the liberty of continuing the Nikita Saga where the television series leaves off.


I also invite LFN fans to send me their
Fan Fiction.


The
Mission Logs
will eventually include transcripts of every LFN episode. And each transcript will be annotated with data on terms, jargon and continuity questions.


Find out about the two movies, the two books and the four soundtracks in
Movies, Music, Books, Games.

No one actively involved with this website is affiliated in any way with Warner Bros.
or USA Network, nor profits in any way from the presentation of the material contained herein. This is an unofficial and non-commercial site. All La Femme Nikita characters, names and other indicia are trademarks of Warner Bros.
All original material © Jason Manning, 2001-2010

"Glorious miracles like La Femme Nikita occasionally do happen."
--Dr. Gary Burns,
co-editor, Making Television: Authorship and the Production Process