28 December 2006
I am nearly done with the site renovation, with a target date of 1.1.07. The LFN Directory has been completely redesigned, and updated with all entry submissions. Thanks to all who have waited so patiently for inclusion. Major changes have been made to the Episode Guide, as well. I would like to hear from LFN fans who have intel on where in the world the series is currently airing on television.
19 December 2006
This site will be thoroughly renovated during the holidays. The New Year will bring new material. The focus will be on adding the rest of the transcripts, keeping the fan directory updated, completing the episode reviews, translations of transcripts, missing song lyrics, and fan fiction (YOUR visions of LFN). I've had eighteen months overseas, more or less separated from LFNForever, to think about the direction that should be taken with this website. Most of us have come to terms with the fact that there will be no miraculous resurrection of LFN. It's time to evaluate and scrutinize and to speculate upon what we have; to look for the nuances, the little details, in the 96 episodes. That's where we'll find new things to talk about. That's how we can make sure that LFN lives forever. A couple of the ideas I hope to pursue: To examine the episodes and construct an hypothesis regarding the kind of woman that appeals most to Michael (and why), and then use that to speculate on how Michael would have reacted to the Anne Parillaud "Nikita" of the original film; also, to speculate on how the relationship between Operations and Madeline in their younger years might have motivated their approach to the relationship between Nikita and Michael; also, to explore how LFN has influenced (often in subtle ways), films such as the MI and Bourne series; also, why Alias was such a rip-off of LFN, etc. More than ever, your contributions are essential. LFN is a great show. Now it belongs to us. Let's make the most of it.
12 July 2005
The ever-vigilant and informative Elisabeth Villasante recently wrote:

"I´ve been sneaking around other LFN related webs and found out Peta Wilson has a guest role in new film
Superman Returns
(release in 2006) directed by Bryan Singer. Her character is a stewardess and the film id being filmed in Australia. I´m not sure you´ve received the mail I sent you about Roy Dupuis wining the Gemini Award for best actor for his role in
Looking for Alexander
(aka
Mémoires affectives
). Alberta Watson was at the ceremony, too. She delivered one of the awards. The ceremony took place 03.21.2005. I´m sending you some pictures about these news with this message. I hope you find it useful."
Useful, as always, Elisabeth. Thank you.
Elisabeth Valso provides us with this intel: the recently released S3 DVD set (6.28.05) contains the following special features: (1) ten deleted scenes with intros by director Jon Cassar; (2) a gag reel; (3) commentary on the the season premiere and final episode by Joel Surnow and company; and (4) last but certainly not least, a short entitled "Designing Nikita," a look at the show's production design by the incomparable Rocco Matteo.
Additions: Speaking of Elisabeth Villasante, her "Simone" transcript is now available in Mission Logs. So is Reece Pollack's transcript of "Nikita" -- and many thanks to both Elisabeth and Reece for their hard work..... I've added a Gallery Seven to Images; this one is a collection of magazine covers featuring Peta Wilson (and two featuring Roy Dupuis) ..... The LFN Fan Directory has been brought up to date; thanks once more to all those who have contributed ..... In response to the requests of many fans that I strictly adhere to the spirit of LFN in Season Six, I've changed the titles of the first three installments so that the titles now contain six words. (Hey, it wasn't easy -- try to come with some six-word titles that make any sense at all!) And yes, there will be another installment coming soon -- right after I finish an overdue writing project for which I will actually get paid!)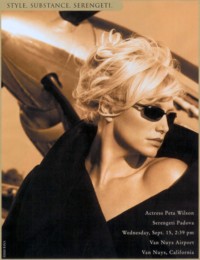 7 April 2005
Warner Home Video has announced the Region 1 DVD release of La Femme Nikita: The Complete Third Season for 28 June 2005 priced at $99.98 SRP. The six-disc set includes all 22 episodes presented in Full Frame with English Stereo sound and optional English, French and Spanish subtitles. This DVD business is, finally, moving right along....
I have (very belatedly) added a link to an outstanding "new" LFN site (it's been around for a while, I'm just inexcusably late in getting to this). Check out Cyn-by-the-Sea in Links.
Many thanks to Stephanie for this intel: Peta Wilson is appearing in a new print ad for Serengeti sunglasses, found in April's issue of Vanity Fair. (photo, right)
Kitty Kamp has created a new forum for Matthew Ferguson fans. You can find it at http://matthewferguson.proboards43.com.
Additions: Joel Surnow's POV added to the "Obsessed," "Noise," "War," "Missing," "Voices," "Brainwash," "Verdict" and "Mercy" pages in the Episode Guide. Have made some progress in the tremendous backlog of new entries for the LFN Fan Directory; will bring the Directory up-to-date within the next few days. (Again, thanks to all who have sent an entry for their patience.) Also forthcoming, the "Simone" mission log by Elisabeth Villasante Vicens.
18 December 2004
Season Four of 24 starts in January 2005 with Alberta Watson on board in a recurring role. Visit the official 24 website for more intel (http://www.fox.com/24/). And in September Watson was nominated for a Gemini (Canada's version of the Emmy), for her role in Chasing Cain: Face (Leading Role in a Dramatic Program or Mini-Series.)
La Femme Nikita Forever! now has a second -- and easy-to-remember URL: www.lfnforever.com. In revamping the site, I found that twenty other LFN-related sites have vanished in the past six months. Gone are: Katherine Gilbert's La Femme Nikita Fan Fiction, La Femme Fiction, La Femme Nikita Picture Page, LFN Cybart by Boyanna, Oxygen's La Femme Nikita page, USA's La Femme Nikita page, Undercover Collection, Undersection, Team 2, Torquil's Arsenal, and a few others. We're sorry to see them go.
Reconstructed the entire website, so hopefully now everything (links, images, etc.) is working properly. New mission logs, additions to the archive, and (hopefully) another Season Six installment are forthcoming.
12 December 2004
The long hiatus is over -- I'm back in the good ol' US of A and can resume work on this site. We'll start with some very good news: Warner Home Video is reporting that the legal issues re: the Season 2 DVD set have been resolved, and that S2 is tentatively set for release the first quarter of 2005. If S2 sales are good enough, S3 may also be released in 2005.
Additions: Have updated the LFN Fan Directory with the dozens of new entries posted since last summer. Thanks to all of you for posting an entry -- and for being so patient. The site has deteriorated slightly in my absence, so if you notice any broken links, etc. before I do, please let me know.
28 July 2004
Warner Home Video has announced the indefinite postponement of the release of the Season 2 DVD set, due to problems arising from the licensing of the music used in the series. Amazon has cancelled all pre-orders. Meanwhile, I am having software problems which temporarily preclude updating this site beyond adding intel. I hope to have these problems resolved soon.
18 June 2004
Peta Wilson appears on the cover of July's issue of Playboy. In the text that accompanies the topless pictorial, she remarks that she wouldn't object to playing Nikita again, if the opportunity presents itself. (Thanks to Melissa and Stephanie for the intel.)
Additions: The Joel Surnow POV for "Rescue," "Innocent," "Recruit" and "Gambit" has been added to the Episode Guide....Elisabeth Villasante's transcript of "Brainwash" is now available in Mission Logs.
2 June 2004
In addition to switching nights, Oxygen is airing LFN episodes out of order now (see TV Schedule), and apparently hasn't scheduled an episode for the last week of the month. What this signifies is anyone's guess.
Additions: The June TV Schedule and Television Appearances have been updated (Home).....Joel Surnow's point-of-view for "Treason," "Escape," "Gray" and "Choice" has been added to the Episode Guide.
27 May 2004
Here's some intel from Tracey....
Thought you might want to add to the list of credentials available for Alberta Watson and Matthew Ferguson. Alberta Watson is in a new original showcase series called "Show Me Yours." This 8 part show had its first episode broadcast this week, so not many details on it yet. Matthew Ferguson is one of the actors in the CBC show "Snakes and Ladders." He plays Donnie Logan.
Additions: An essay by Sarah Collins -- entitled "Long Live Nikita" -- has been added to The Archive; Joel Surnow's point-of-view on "Friend" and "Mother" has been added to the Episode Guide.
18 May 2004
Peta Wilson has been getting plenty of exposure in magazines of late; she showed up in the Australian Vogue in February, Impact Magazine in March, and the Italian version of Vanity Fair in April.
Additions: Joel Surnow's point-of-view on "Love" and "Simone" added to the Episode Guide; 15 new entries in the LFN Encyclopedia [Ahmed, Ames, Andy, Louis Armel, Ricardo Arou, Josef Azderian, Sylvia Bahrami, Black Moon, Russell Burke, Carolyn, Claude, Costas, Craig, Crawford, Cross].
17 May 2004
The Season 2 DVD Box Set is scheduled for a July 20, 2004 release. (My apologies for the long delay in updating LFNForever.)
Additions: The May TV Schedule and Television Appearances have been updated (Home); better late than never! The LFN Fan Directory has been updated -- thanks to the fans around the world who have contributed. Also on the Home page, the June 2004 LFNForever Calendar. There are several new articles in The Archive. And I've begun to add commentary by Joel Surnow, LFN's executive producer, to the episodes in the Episode Guide, starting with "Nikita" and "Charity." More to come soon.
A request: due to the incredible volume of spam, viruses and other garbage I receive at lfnforever@lycos.com, please be very specific with the subject of your email message, to ensure that I'll open it.
14 April 2004
The news everyone's been waiting for: the Season 2 DVD Box set is scheduled for release 20 July 2004. Below is a picture of the package. It's a 6-DVD set with a suggested retail of $99.98. Warner will also be releasing a Season 1 & 2 double-pack at about the same time. (No intel yet on the price of the double-pack.) Special features include: deleted scenes, with introductions by director John Cassar; commentary tracks by Joel Surnow and Michael Loceff), and a "gag reel." Many thanks to Stephanie, Lisa and Michelle!!
Additions: A new link, to a fan forum known as "S1". It's in Polish and English, and you should check it out. Go to Links.
5 April 2004
Thanks to Eddie for the following intel:
"Seems that 'Queer As Folk' has been a bit of a LFN cast reunion. I've been watching all three seasons over my roommate's shoulder, and noticed these three right off the bat. Thought it was cool that they all showed up again on one show. Marnie McPhail: LFN - Julie Roarke (ep. 105 "Friends") QAF - Rita Montgomery (ep. 314, recurring character in upcoming season 4) Carlo Rota: LFN - the everlovable Mick Schtoppel/Martin Henderson QAF - Gardner Vance (reccurring character in season 3) Sherry Miller: LFN - Helen Wicke (ep. 107 "Mother") QAF - Jennifer Taylor (recurring character seasons 1-3) Wasn't sure if this had already been noted, but I thought I'd give you the FYI just in case."
In further news, the 7th Lights-Camera-Auction charity event will be held in Los Angeles Oct. 22-24, 2004. This is the first time LCA has been held anywhere besides Toronto, Ontario. The event is sponsored by Jon Cassar, who directed numerous LFN episodes, and Nigel Bennett, who guest-starred as "Petrosian" in two episodes.
3 April 2004
Additions: Updated the TV Schedule and added the April Television Appearances (both at Home). Also, updated the LFN Fan Directory.
22 March 2004
As of a few days ago, USA Network took down the LFN pages formerly maintained on its website. Many of the interviews, images and other material had previously been salvaged by this and other LFN sites and fans.
Additions: Closed all the external links to material found elsewhere on the Web and incorporated it into The Archive, including the TV Guide article "Roy's Story" (now on Page 2 of 2001), the WB online chat with Robert Cochran (now on the Miscellaneous page), and created a page for the "Girl Power" article from FashionFind and the "Pain Perfect" article from CNN. Lost the 2001 USA interview with Dupuis, since USA Network has removed most if not all of the LFN material from its website. I moved the Peta Wilson material at AskMen.com to Links/Other LFN-Related Websites.
20 March 2004
The Prince and Me, a Paramount/Lion's Gate Entertainment film starring Alberta Watson with Julia Stiles and Luke Mably, is scheduled to open nationwide on April 2.
Additions: Sixteen more articles have been added to The Archive; look for the tag on Pages 1 and 2 of 1996-1997 and on Pages 2 and 3 of 2000.....Several newspaper commentaries have been added to the "Nikita" page, and one to the "Catch A Falling Star" page, in the Episode Guide.
18 March 2004
Peta Wilson testified in federal court recently as a witness in the trial of former Adelphia Communications executives accused of conspiracy and fraud. As a friend of co-defendant Timothy Rigas, she took dozens of flights on company jets allegedly used by Rigas, his brother, and his father for personal business. The misuse of millions in company funds, according to the prosecution, forced Adelphia into bankruptcy.
Additions: Seven articles have been added to The Archive -- look for the tag.....In the Episode Guide, newspaper commentaries have been added to "Hard Landing," "Spec Ops" and "Adrian's Garden."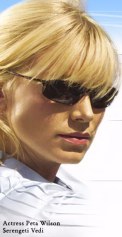 17 March 2004
Some stunning Peta Wilson photos showed up in a 6-page layout in the April issue of the Italian Vanity Fair, and she also graces the Serengeti Eyewear website (see image, right).....Sean Callery is said to be assembling a second CD collection of his original music for LFN.
Additions: I am honored to report that LFNForever has now been visited by LFN fans from 100 countries (see Site Statistics, above).....Restored the TV Schedule and the March TV Appearances for the LFN stars to the Home page.
7 March 2004
Additions: Brought the LFN Fan Directory up to date. Thanks to all the great fans who contributed, and keep sending those tributes.
5 March 2004
Additions: Because this site has become so immense, I've transferred the Images section (including the episode screen captures) to an entirely new website. The "images" link in the menu will take you there. The memorabilia page has been incorporated into the new images site, as well.
8 February 2004
Additions: Updated TV Schedule (Home), and the LFN Fan Directory.
22 January 2004
Additions: "Dragula" by Rob Zombie and "Please" by Mandalay (the former with an audio sample) in the LFN Songbook.....The "On Borrowed Time" Capture sequence is up in Images, with 81 caps -- the most for any episode, thus far -- on two pages.
19 January 2004
Hans Zimmer (see bio in Movies, Music, Books, Games) has been nominated for a Golden Globe Award for the original score of the film The Last Samurai.
Additions: The transcript for "Darkness Visible" is available in Mission Logs.....Two new reviews (Digitally Obsessed and LethalDeath.com) have been added to the others already compiled for the Season 1 DVD Box Set, in Movies, Music, Books, Games; a second page has been added for the reviews (and the new additions are on that second page).....Also, three reviews of the original Nikita film (Hal Hinson/Washington Post, Dave Becker/Orbital Reviews, and Chris Hicks, Deseret News) have been added to the Nikita reviews, while Darren Menendez's DVD Angle review of the MGM Remastered DVD of that film has also been added -- all in the Nikita/Reviews section of Movies, Music, Books, Games..... Two articles have been added to The Archive: "Femme Fatale..." by Richard Wallace (1997, Page 3) and "Fans Keep Nikita Running" by Larry Bonko (2001, Page 1).....Brought the Visitors' Comments up-to-date and renovated the page (see link, above.).
17 January 2004
Peta Wilson and Vivica A. Fox have been cast in an action flick called Vertical. Filming begins soon in South Africa.....Jean Reno, who played Victor in the original Nikita, was last month named an officer in France's National Order of Merit. Reno was decorated by President Jacques Chirac in a ceremony at the Elysee Palace.....The 2004 Rivers Foundation Conference, a two-day fundraising event in Montreal, is scheduled for the second week of June. To find out more about the foundation -- and the extent to which Roy Dupuis is involved in it -- go to http://www.rivers-foundation.org.
Additions: Completed Season 5 of the new Episode Guide; this finishes the new Guide, and the old one has been disposed of....Added "Roy Dupuis: The Actor's Method" -- a 1999 interview -- to The Archive and removed the external link to its original source.
5 January 2004
Additions: After a couple of false starts, finally have the LFNForever Crossword Puzzle available (see menu, above).
4 January 2004
Roy Dupuis will star in the title role of a Gilles Noel film, Jack Paradise, due out (in Quebec) in February 2004; for more information, you can access the official website by clicking on the banner, below....A correction on the publication date of Wesley Britton's Spy Television, which includes a chapter on LFN; my initial intel was that it would be out this month, but it appears that it will hit the stands in March 2004 instead.....Eugene Robert Glazer's project, Area 23, is slated for a November 2004 television premiere, according to one source, but that is, at yet, unconfirmed.
Additions: Updated The Actors portion of Cast and Crew with recent projects for most of the actors, and a new fan mail address for Peta Wilson.
3 January 2004
Additions: The January TV Appearances for the LFN stars, and the January 2004 LFNForever calendar, are available on the Home page.....The LFN Fan Directory has been updated with the December submissions -- thanks to everyone who has paid tribute to our favorite show! More coming in a day or two.
In order to keep this page from getting too bulky, we will archive previous intel as needed. We suggest that newcomers peruse these pages, too, as there is a lot of LFN-related information on them that is not found elsewhere in LFNForever. These pages will also represent a journal, if you will, of LFNForever's growth.