31 December 2002
Oxygen Network is airing 20 hours of LFN on New Year's Day. That includes all of Season 5 and the last three episodes of Season 4. (See TV Schedule for list of episodes.)
Additions: Renovated the screen captures in Season 2 of the Episode Guide; did likewise to the images in "A Tour of Section One" (Images), while adding an image of the Gambit Room, two more of Nikita's apartment, and one of a mission van. A new article, "USA Chasing La Femme Nikita" has been found and added to The Archive (2000, pg. 2). Updated the Television Schedule.
26 December 2002
I've heard that Sean Callery, who wrote the original soundtracks for LFN episodes, and who recently released some of his fine work on CD (see Movies, Music, Books, Games) is considering a follow-up CD containing more original tracks from the series. As you may know, Callery is currently doing the music for the Fox series 24 -- and was nominated for an Emmy Award in 2002.
Additions: The TV Schedule (Home) has been updated; my notes on "Under the Influence" are now in the Episode Guide (and I'm STILL waiting for the first guest episode review by a visiting LFN fan!); in Images, the screen capture sequence for "War" is up.
LFN Songbook adds:
["Angel," Massive Attack; "Fire and Roses," Mimi]
18 December 2002
An interesting piece of trivia: In the film Spy Game, the Brad Pitt character, "Tom Bishop", falsely identifies himself as Michael Samuelle during a lie detector test. A nice, subtle tribute to LFN; wonder who's responsible for it?
LFN producer Peter Lenkov has teamed up with writer Fred Rappaport ("Kiss the Past Goodbye") on a project for TNT called Sinner. It will be produced by Fireworks (the LFN production company) and Lion Rock, a firm with which action director John Woo is associated. This past year, Lenkov also worked on a television pilot for UPN derived from The Destroyer series of novels.
We ran across this image of Tara Slone (who played "Gail") and her band Joydrop. See the Intel entry for 24 October for more info.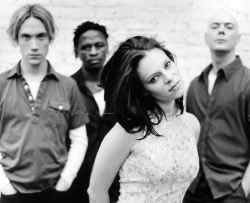 Additions: A new article, "Grass Roots Campaign Can Save TV Shows" in The Archive (see "2001" page); My notes on "Love and Country", in the Episode Guide; Two new images added to the Nikita movie section, and one more of Bridget Fonda in the Point of No Return section (Movies, Music, Books, Games); The screen capture sequence for "Friend" is up in Images.
LFN Songbook adds:
["Absurd," Fluke; "Is Jesus Your Pal," Gus Gus; "Life In Mono," Mono; "Path to the Invisible," Pilgrimage]
12 December 2002
LFN episodes didn't always end up with the same titles with which they started. For instance, "Love and Country" was, at one time, "No Loose Ends", while "Old Habits" started out as "Serial Killer." Try your hand at matching the following working titles with the correct one of the three episodes listed below it. Answers are at the bottom of this page.
| | | |
| --- | --- | --- |
| 1."Rouge Lover" | 2. "Michael's Past" | 3. "Behind Bars" |
| a. "Open Heart" | a. "Half Life" | a. "Not Was" |
| b. "Double Date" | b. "Soul Sacrifice" | b. "Imitation of Death" |
| c. "Playing with Fire" | c. "Gates of Hell" | c. "Open Heart" |

There is an interesting piece of artwork featuring Peta Wilson transformed into Mina Harker for the upcoming (Summer 2003) feature film,
The League of Extraordinary Gentlemen.
It's the work of a fan (using Poser and Photoshop and, of course, made to look old), and has been circulating around cyberspace since September. Click
HERE
to see it. (external link)

Additions: Added nine more grabs to the "Nikita" screen capture sequence (Images).
10 December 2002
First Team has learned that production of LFN DVDs is underway. This has been confirmed by New Wave, the firm contracted by Warner Bros. to do the job. Meanwhile, Gord Lacey at TVShowsonDVD.com has sent word that he's heard from several people who work in video stores that LFN Season One will be released May 13 of next year. So, you've heard it from me, who heard it from Gord, who heard it from them, who heard it from....you get the idea.
Additions: Refreshed the LFNForever Greeting Cards with six new images. Added my notes to "Mandatory Refusal" and "Half Life" in the Episode Guide. Have begun the (tedious but necessary) task of lightening all the images in the Episode Guide. The screen capture sequence for "Nikita" has been added to Images. And the "Approaching Zero" transcript is available in Mission Logs.
LFN Songbook adds:
["Blood Red," Rose Chronicles; "Standing Around Crying," Big Sugar; "3 A.M.," Tristan Psionic]
6 December 2002
The December issue of The Word From Section newsletter is available. In this issue, TWFS goes on assignment to scout out LFN shooting locations in and around Toronto, talks with the webmaster of Ravenseven's CQS4 Section website, and celebrates Eugene Robert Glazer's birthday. Click
HERE
to go there now. (external link)
5 December 2002
LFN's storyboard artist, Doug MacRae, who went on to contribute to such TV projects as
Mutant X
and
Monk
, is taking a respite from the grind of television work to focus on a cartoon strip entitled
Anubis
and an online comic book,
Guardian.
You can check out Mr. MacRae's work -- including a good deal of his LFN artwork at
http://www.skyeproductions.com
.
Additions: My notes and other details have been added for "Hard Landing" and "Spec Ops" in the Episode Guide. Screen capture sequence for "Love" has been included in Images. Five new articles have been stored for posterity in The Archive. The second LFNForever Poll is awaiting your vote. And a page has been added in Movies, Music, Books, Games for Sean Callery's Limited Edition CD featuring highlights of the series' original score.
LFN Songbook adds:
["Dying Wish," Kill Transmission; "Gentle Rain," Diana Krall; "Living Dead Girl," Rob Zombie; "Satan," Orbital; "Smack My Bitch Up," Prodigy]
If you have written La Femme Nikita fan fiction, we hope you'll consider having it published here at LFNForever!
(See Fan Fiction for details.)

30 November 2002
It looks as though Don Francks will be a guest star on multiple episodes of the Showtime original drama series Street Time, starring Rob Morrow and Scott Cohen. Morrow's character is a paroled criminal trying to adjust to life "on the outside" while Cohen plays a parole officer. The episodes featuring Francks have not yet been filmed. The series airs Saturdays at 10 PM (EST).
Additions: A new feature -- the LFN Fan Directory. Help us create a global database of LFN fans.
The second Season Six entry, entitled "Serpentine", is finally finished and available. Screen capture sequences for "In Between" and "Toys in the Basement" is available in Images. A few more adds to The LFN Songbook (see list, below).
["Fear And Love," Morcheeba; "Loaded Gun," Hednoize]
28 November 2002
Additions: The TV schedule (Home) has been updated. Screen capture sequence for "Getting Out of Reverse" is up in Images.
19 November 2002
The Fondation Rivieres (Rivers Foundation) -- organized by Roy Dupuis and Michel Gauthier to protect the rivers of the province of Quebec -- has a new website. It's a worthy cause, and a site well worth a visit. The UR is www. rivers-foundation.org.
Rumors abound that Edward Woodward -- who starred as the real Mr. Jones (and Nikita's father) in LFN -- may leave the stage forever after appearing as the title character in
Goodbye, Mr. Harding
, a production currently touring England. One critic said of Woodward's work: "Throughout Edward Woodward shines as Harding - it is a tour de force." The same could probably be said of all Woodward's work. There's an article from Sept. 26 about Woodward and that production
HERE
(external link).
Additions: Introducing the brand new LFN Songbook; since the music is such an integral part of LFN, I've launched a new section that will provide the lyrics as well as parent album and episode/scene information for the songs used in the series. Click HERE or check the main menu. There are 22 entries -- and more coming soon. (This addition puts up over the 1,000 mark in images on this site.)
Details on "New Regime" have been added in the Episode Guide. Screen capture sequences for "Before I Sleep" and "Catch A Falling Star" are up in Images. Two more articles have been added to The Archive. The transcript for "Third Person" is available in Mission Logs.
14 November 2002
If you're interested in finding out why and how
LFNForever
came to be, you can read the interview of yours truly in the November issue of Word From Section's newsletter; just click
HERE
.

In other news, Alberta Watson has signed to appear in a movie entitled The Henry Morganthaler Story, based on the life of the doctor who has been described as the father of the abortion-rights movement in Canada.

Additions: Screen capture sequences for "Time To Be Heroes" and "Let No Man Put Asunder" are up in Images, and I have created linkage between the appropriate pages of captures and the episode entries in the Episode Guide; Details on "Brainwash" and "Before I Sleep" have been added in the Episode Guide; The transcript of "Spec Ops" is available in Mission Logs.

9 November 2002
According to First Team, Warner Bros. Home Video has decided to release LFN on DVD. There is no firm date yet, but mid-2003 seems to be the rumored release date. First Team recommends cautious optimism; as yet, we have no independent confirmation of WB's decision.
Additions: Screen capture sequences for "Treason" and "End Game" are up in Images; A brief but interesting (psychoanalytical) take on LFN by Don Nathanson in The Archive (1996-97, Page 2); The transcript for "War" is posted in Mission Logs; updated the TV Schedule (Home).
2 November 2002

In the UK, Channel 5 has started airing Season Four -- British fans have waited a long time for this. And in Czechoslovakia there is, apparently, a book out; the cover is picturedat right. If anyone knows more about it, please send intel. And there is a new rumor floating around about an LFN movie set for release in 2003 and starring Patrick Stewart. There is no truth to this -- it was a rumor started on the Warner Bros. LFN discussion board and has since spread.
Additions: Completed (finally) the pages on the two LFN books -- see Movies, Music, Books, Games; also in that section, a piece on Anne Parillaud (see the page for the French film, Nikita); In Images, captures for "Fuzzy Logic", "Off Profile" and "Adrian's Garden" have been added; my notes on "War" and "Hand to Hand" in the Episode Guide; five new entries in The LFN Encyclopedia [Aurora, Oswald, Renee, Sondra, Trans-Ural Talent Agency]; four new items in Memorabilia; updated TV Schedule (Home).
28 October 2002
The Center for Media and Public Affairs recently completed a study of sex and violence on television; researchers sampled 284 episodes from the 1998-99 and 2000-01 seasons and concluded that LFN was the most violent show on basic cable.
Roy Dupuis recently made the cover of Famous Quebec (November 2002), a magazine available only in theaters in Quebec. The issue included several pages on his new film Un homme et son peche. Here's the cover...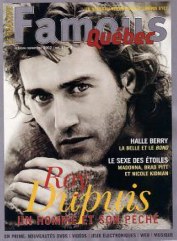 Additions: Screen captures for "Third Person" & "Approaching Zero" as well as "Not Was" in Images; also, Gallery Five: Behind the Scenes, added to Images; two new links (La Femme Nikita Extended Soundtrack and La Femme Nikita TV Soundtrack); revamped the TV Schedule (Home) to make it easier to read; my notes on "Deja Vu All Over Again" and "All the World's A Stage" in the Episode Guide; two articles added to The Archives - "Cherchez la 'Femme'" (2000-Page 2) and "La Femme Peta" in (1996-97, Page 2).
24 October 2002
An interesting, if not exactly timely, piece of news: Back at the end of 1999, the JAM! Millenium Poll asks Canadians to pick the most important artists in four categories. The top five recipients in the Acting category were Donald Sutherland, John Candy and Alberta Watson, followed by Jim Carrey and Michael J. Fox. "Madeline" keeps good company.
Also in the "Did You Know" department: Halifax-native Tara Slone, who played Birkoff love interest "Gail", is a member of the Canadian band Joydrop, which had a hit not too long ago with "Sometimes Wanna Die" off its second album, Viberate. It was while Tara was pursuing her acting career in Toronto that she answered a classified ad placed by a trio that needed a vocalist. The first Joydrop album, Metasexual, was released in 1999. [See 18 December, above, for image]
Additions: Added a long-overdue page dedicated to the talented LFN crew; link to it from Cast of Characters; also, a new page in The Archives containing some critics' comments re: the debt Alias owes to LFN, entitled "The Alias Connection"; and, as I have so many unused screen captures, I've started putting them together by episode -- check Images for over 200 grabs from nine episodes (with more to come).
20 October 2002
We came across this series of images featuring Peta Wilson with her son James (born last March) and father Damien Harris. We wish the trio long and happy lives.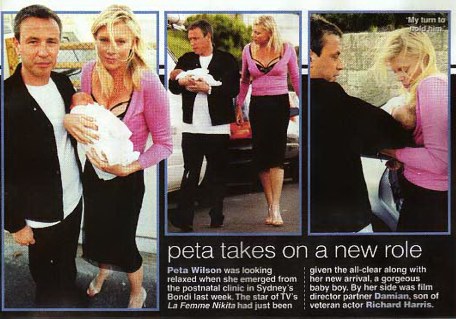 Additions: Details for "Cat and Mouse" in the Episode Guide; and speaking of which, I've started adding to the entries in the Guide the prerecorded music used in each episode. (A complete list of that music is available in Movies, Music, Books, Games on the page for the series soundtrack.) Also added over 75 listings to The LFN Encyclopedia. And, finally, the transcript of "Hard Landing" is available in Mission Logs.
17 October 2002
Louise DiCarlo with Oxygen Media has been kind enough to respond to my queries re: LFN. She has informed me that Oxygen bought exclusive rights to all five seasons of the series, and that early returns are favorable. "[T]he feedback is incredible," she wrote. "[I]t hasn't died down at all since word leaked out that we were carrying it!" LFN fans should email Oxygen and express their gratitude for bringing the best television series ever back to TV! Click
HERE
to go to the Oxygen website.
If you hadn't already noticed, the trailer for the new action feature film The Transporter, produced by Nikita creator Luc Besson stresses its connection with LFN (the movie) -- obviously a major selling point.
In addition, it appears that LFN (the series) will be introduced next year to China; AOL Time Warner recently announced an agreement with Beijing to distribute and entertainment TV channel in Guangdong province. There are an estimated 7 million cable households in that province, and the basic cable package will feature original Chinese programs as well as dubbed versions of American series, including La Femme Nikita.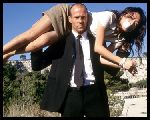 Jason Statham gets the jod done, one way or another, in The Transporter
Additions: One new article by Lisa Moss in The Archives (see the 2000 page); details for "Old Habits" in the Episode Guide. Numerous additions, also, to The LFN Encyclopedia. Updated (and corrected) TV Schedule (home page).
14 October 2002
More on Peta Wilson's new feature film project, The League of Extraordinary Gentlemen. It's based on Alan Moore's acclaimed comic book series. Set in Victorian England, it tells the tale of a group of unusual characters brought together by the government to foil a madman's plot for world domination. Peta Wilson plays Mina Harker while Sean Connery stars as group leader Allan Quartermain. Tony Curran and David Hemmings also star. Filming started this summer in Prague (then proceeded on to Malta, Vienna and the UK); the film is scheduled for release in Summer 2003. Initially, Monica Bellucci was pegged to play the Mina Harker part, but she backed out, and Peta Wilson was in.
Additions: The ones you can see: details for "Soul Sacrifice" in the Episode Guide; a new page of pictures -- see Images - Gallery Four. Have added the upcoming TV schedule for LFN in Canada (on Showcase) on the home page.
The ones you can't see. Noting that we an article ("Renewal Intentions") and a Peta Wilson interview ("Violent Femmes") that we had linked to have vanished into Internet limbo, I decided to add all the interviews and articles from the other external links in The Archives to this website. You won't see them unless the material on other sites which we have linked to disappear. But, just in case that happens, I'm willing to use the space to store them, so that LFN fans will always have access to them, one way or another.
12 October 2002
More on Oxygen picking up LFN from Zap2It.com:

Oxygen Gives New Life to 'Nikita'
Tue, Sep 24, 2002 11:59 AM PDT

LOS ANGELES (Zap2it.com) - As part of its ongoing effort to be Not Your Sensitive Aunt's TV Network for Women, Oxygen has picked up rerun rights to "La Femme Nikita."
The series, based on the 1990 French movie of the same name, aired on USA from 1997-2001. It starred Peta Wilson as Nikita, a woman who becomes an anti-terrorist operative as an alternative to serving a life sentence for a murder she didn't commit.
Oxygen will air the show at 5 p.m. ET Monday through Thursday beginning Sept. 30. It will be paired with another series about a woman who can kill you in a number of ways -- "Xena: Warrior Princess."
The show will also air at 1 a.m. every day and 10 a.m. on weekends.
LFN is also being shown weekdays in Canada on Showcase.

As for LFN on DVD, fans are encouraged to go to Amazon, search for "La Femme Nikita" under DVD, and submit your email address as instructed. Warner Bros. is, apparently, testing potential sales numbers via Amazon. They are looking for at least 5,000 requests, so waste no time! Click
HERE
to go directly to the Amazon page where you submit your email.

The
Nikita Cruise 2003: Mexico Mission
is right around the corner. It's scheduled for Feb. 10-14; The
Norwegian Majesty
will depart from Miami and head for Key West and Cozumel. Don Francks and Carlo Rota will be there, so make sure you sign on. For more information, click
HERE
. (Below are a couple of photos from the Nikita Cruise 2002.)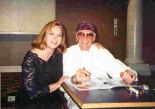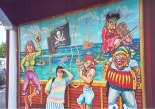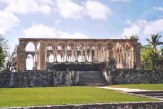 Additions: Have added details on nearly all the sites listed in Links, and have removed the broken links in the process. Also, added one article, Martindale's "Peta Wilson: 'Nikita' Is Quite A Hit, Lady" in The Archives (1999, page 2).
11 October 2002
Good news! As of 9.30.02, The Oxygen Network is showing LFN. See the home page for the schedule.
I apologize for the long hiatus, but once again was rushed overseas w/o warning. In my absence, my files for The LFN Encyclopedia were accidentally lost. So I need YOUR help to finish the project. I've opened the pages for N through Z, but as you can see, they're empty. You can see what we want from the pages for A through M, so if you'd like to contribute entries, please feel free. We'll give you credit, of course!
Immediate intentions: To work on completing the Episode Guide and finish the Mission Log for "Hard Landing." Stay tuned...
3 August 2002
I need help! As you can tell by the visitors' countries of origin list in Site Statistics, we have visitors from all over the world. I also get emails from fans in all corners of the globe asking me for LFN TV Schedules in countries other than the USA. If anyone can provide me with information on where and when LFN is appearing on television, please do! You could be of great help to your fellow fans. Thanks!
Roy Dupuis is set to reprise his role as biker Ross Desbiens in a sequel to the CBC/TV miniseries
The Last Chapter
which aired (in Canada) last spring.
The Last Chapter: The War Continues
is being filmed this summer in Montreal and Toronto. Michael Ironside will also reprise his role as Bob Durelle. TLC:TWC is scheduled to air on CBC/TV and Radio-Canada early in 2003. There's a website devoted to
The Last Chapter
. Access it
HERE
.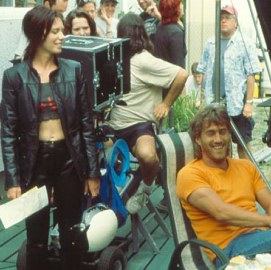 Celine Bonnier & Roy Dupuis on the set of TLC
Dupuis has also signed to play jazz musician Jack Paradise in a France-Quebec feature film that will begin shooting in Montreal this fall.
2 August 2002
USA Network has one (unspecified) LFN episode scheduled for the first weekend of September, and then no more after that. We're not sure yet whether that means LFN will be absent from USA's fall lineup altogether, but we suspect that's the case. (Hope we're wrong!)

Peta Wilson has signed on to costar with Sean Connery in The League of Extraordinary Gentlemen. The 20th Century Fox film started shooting this summer and is set for an April 2003 release.
Additions: The initial 33 "M" entries have been added to the LFN Encyclopedia. Two new links have been added -- Flash Mission and Adi's Nikita Site.
12 May 2002
There seems to be a rumor floating around that plans are afoot to bring LFN back for all new episodes. I refer you to the appropriate topic on the Messageboard. We haven't been able to confirm this, but we're making inquiries.
Additions: The "L" entries have been added to the LFN Encyclopedia.
2 May 2002
There's a very important message on the campaign to get LFN on DVD on the Messageboard. It's posted by Celinde and refers to an effort by Gord Lacey of the TVShowsonDVD website to keep the heat on the powers that be. We strongly encourage every fan of LFN to read that posting and consider joining the effort. [However, you may be subjected to relentless spamming if you submit your email address.]
Additions: Details for "Gray" and "Obsessed" (Episode Guide) are complete. The "I", "J" and "K" sections of the LFN Encyclopedia have been opened, with 39 entries in all.
30 April 2002
Gamespot.com tells us that the LFN Playstation2 game was set to be published January 2002. And yet we can't find it on sale anywhere. Eventually the game will be available on CD-Rom and for X-Box, or so they say. We have added six new screenshots from the game, courtesy of Infogrames Europe, in Movies, Music, Books & Games.
We encourage you to send us your episode reviews. Every LFN aficionado has his/her own opinions about different episodes, so why not publish them here? Just check the Episode Guide for a few guidelines.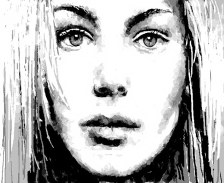 At one time, New York's Cristinerose Gallery offered the following art by Tom Moody entitled "La Femme Nikita (Realistic Version)". It's a 20x28 laser print, and to find out more you can call the gallery at 212-206-0297.
Additions: We've added details to "Gambit" and "Recruit" in the Episode Guide. Also, three more articles repose in The Archives: "Killer Babe" (1999),"LFN: Sexy Complexity" (1999), and "Killer 4th Season" (2000). There's a new entry on the Links page: La Femme Nikita: Channel 5, a British site. We've opened up the LFN Classifieds, so post a free ad if you want to buy, sell or trade LFN-related items. We added more screen captures to the Episode Guide -- in fact, all we need are some grabs for "Voices" and "Any Means Necessary." Finally, we've added the first 22 "H" entries to the LFN Encyclopedia.
27 April 2002
Eugene Robert Glazer will star in Area 23, a movie and series pilot that's been described as LFN meets Mutant X. It's about the government's Psy Ops team -- an elite strike force that protects the nation's interests at home and abroad. The movie also stars Michael Berryman, Carrie Dobro, Maggie Egan and Andrew Jackson. We're not yet aware of an airdate.
As previously mentioned, Warner Bros. is dragging its feet with regards to releasing LFN on DVD. It's up to the fans to keep the heat on, so take a few minutes and postcard (not a letter), or post an email, or even make a call to one or all of those listed below. For more intel on this ongoing campaign, check with the First Team at the SaveLFN website (www.savelfn.org).
Mr. Warren Lieberfarb, President
WARNER HOME VIDEO
4000 Warner Boulevard
Burbank, CA 91522
E-mail: warren.lieberfarb@warnerbros.com
Mr. Doug Wadleigh
Vice President of Special Interests
Marketing Department
WARNER HOME VIDEO
4000 Warner Boulevard
Burbank, CA 91522
Telephone: 818/954-5663
E-mail: Doug.Wadleigh@warnerbros.com
Mr. Mike Saksa
Vice President, US Marketing
WARNER HOME VIDEO
4000 Warner Boulevard
Burbank, CA 91522
Telephone: 818/954-6582
E-mail: Mike.Saksa@warnerbros.com
26 April 2002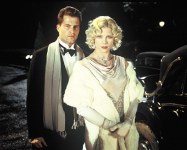 Peta Wilson has a starring role in the new film
Joe and Max
, which has aired in March and April on STARZ. Filmed entirely in Germany, the movie focuses on the rivalry between American boxing champ Joe Louis and the German champion Max Schmeling. Wilson plays actress Anny Ondra, Schmeling's wife. The film also stars Til Schweiger, Leonard Roberts and Richard Roundtree. (And, yes, Peta and boyfriend Damien Wilson had a child a couple of months ago.) [P.S.: The boy's name is James and he was born 3.7.02.]
Clearly, one of our first priorities upon our return was to update the Links page, as a good number of LFN websites have gone the way of the dinosaur. This is to be expected following series cancellation, as some disheartened webmasters and fans lose interest. But LFN is one of those shows that will never die, and it's not likely that the Nikita Saga has run its course. Regardless of what happens to other sites, LFNForever will be around for the diehards -- not to mention all the new fans who'll be coming along. (And we're putting together a contingency plan so that there will be no long hiatus in the future.)
Additions: We've put the current television schedule in a table at the bottom of the main page. (Let's hope USA Network sticks to it!). We've also replaced the "D" category of the LFN Encyclopedia, which mysteriously disappeared, and added the 18 entries for "I" and "J". Just a note: Once we've gone through the entire alphabet once, we plan to go back and meticulously scrutinize every episode and the two movies, so we'll be adding many more entries to the Encyclopedia as time goes on. If anyone wants to suggest entries, please feel free.
Also, there are four additions to The Archives -- the "Peta Wilson/Buff Body" and "Careers That Won't Quit" articles for 2001, the "Femme Nikita Star Savors Success" article for 1998, and the new external link to the Peta Wilson pages at AskMen.com. A former Soviet republic has issued six LFN tribute stamps -- see them in Memorabilia. They're really something. We've revamped Links, removing those that now lead nowhere.
24 April 2002
Chris Heyn's privately published Inside Section One, originally scheduled for completion in November 2001, has been pushed back to April 2002. (If anyone receives a copy please notify us; others who have placed orders would like to know.) P.S. (4.30.02) From what Mr. Heyn has reported regarding the book's status, it seems unlikely that it will be finished until much later in the year.

Roy Dupuis has been very busy since LFN. He's shooting
Un Homme et son Peche
, a remake of a classic based on the 1939 novel by Claude-Henri Grignon. (See image, below), and he's set to star in an Andre Forcier film,
The United States of Albert.
The Last Chapter
, a $9.5 million, six-hour miniseries in which Dupuis and Michael Ironside play rival biker bosses (and which was filmed in both English and French versions), aired on CBC March 3, 10 and 17.
We've gotten many queries regarding Season Six -- and yes, we're working on the second episode, so stay tuned.
Additions: We have replaced the Messageboard. We chose ezboard due to its reliability and user-friendly format. Clicking on "Messageboard" in the menu on this site's main pages will take you directly to the service. Then open "Section One" (it's the only forum.) Once you've posted your message(s), just click on "La Femme Nikita Forever" located at the bottom of the board to return to this site. We've also added LFN Greeting Cards, featuring eighteen great images. And we've added the 100th item to The Archives -- "Undercover Blues" by Edward Gross. There are eight more screen captures in the Episode Guide.
22 April 2002
I'm back -- finally! Apologies for the longer-than-expected absence, but just got Stateside again. It will take us a bit to get up to speed, but we'll start adding new material right away. Our original email service cratered, so we've lost any messages you might have sent in the past 2-3 months. Our new email address is lfnforever@lycos.com.
Our immediate plans are to complete the LFN Encyclopedia and the Episode Guide, adding Mission Logs and detailing Links as we can. Of course we'll get up to speed on all the LFN-related news we've missed, and what's going on currently.
Also, Multicity terminated their free messageboard service, so we'll start shopping around for a new discussion forum. We see that much has changed in the LFN world during our absence -- USA has cut back severely on reruns; several major LFN sites seem to have stopped updating. But, as our title makes clear, LFN is forever, and we're going to pick up right where we left off. So stay tuned...
* * * * *
* Answers to the 12.16.02 episode title quiz: "Rouge Lover" was an early title for "Double Date"; "Michael's Past" was a title considered for "Half Life"; "Behind Bars" was the working title for "Open Heart".
Sept. 12, 2001 - April 22, 2002: No updates, as the webmaster was overseas, and in no position to make any!