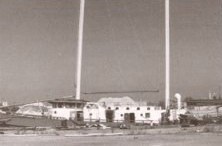 The Boat
Located at the Toronto Docks, this boat was used in two episodes -- as the rendezvous for Nikita and Michael in "Hard Landing" and as the site staked out by Davenport and his team in order to catch Michael and Nikita together in "Playing With Fire."
Image derived from Dawn Connolly's La Femme Peta (Toronto: ECW Press, 1999)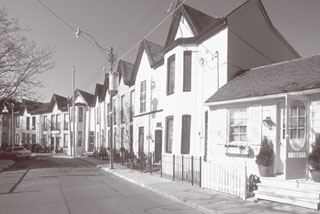 Bright Street

A short, winding lane lined with 19th century Victorian houses in lower Cabbagetown, Toronto, south of Queen Street and north of King.

In the closing sequence of "Half Life," this is where Michael watches his sister and her family from afar.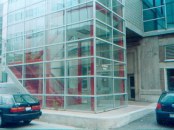 Casa Loma
[see LFN Locations (1)]
Used in "Into the Looking Glass" as Nikita's secondary residence, outside of which she is abducted by Michael, who uses a lookalike to throw off the operatives assigned to protect Nikita from a hit squad.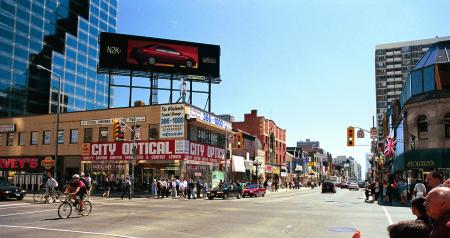 Dundas & Yonge Streets
This area was featured in the opening sequence of "Nikita," in which Nikita is shown living on the streets.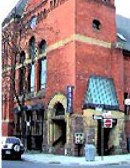 Edward Day Gallery
[33 Hazelton Ave.]
One of Toronto's premier art galleries.
Where Nikita and Operations go in search of Pierre Brogan, the alias of Freddy Allen, an arms dealer who they hope will lead to them to the person or persons responsible for the Tyco infiltration of Section One, in "I Remember Paris".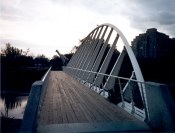 Humber Bay Park
[Lake Shore Blvd. off Park Lawn Rd., Etobicoke]
Opened in 1984 at the mouth of Mimico Creek, and the site of several habitat restoration projects.
In "A Time For Every Purpose", where Nikita's father, Mr. Jones, is handed over to The Collective in exchange for Michael's son, Adam.
Cloud Gardens
A 1/2 acre park in the middle of Toronto's downtown financial district.

In the opening sequence of "Half Life," this is where Michael and Nikita find the bomb set by Rene.
Colborne Street
In "Before I Sleep", this was the location used in the filming of Jan Baylin's suicide run, in which she tries to crash her car into the vehicle containing Nikita and Michael.
Photo derived from Dawn Connolly's La Femme Peta (Toronto: ECW Press, 1999)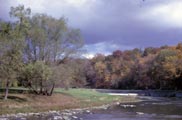 Etienne Brule Park
[Old Mill Rd.]
In "Someone Else's Shadow," this is where Elena expects to meet her father, Salla Vacek -- and where Section hopes to kill the terrorist. Both Elena and Section are disappointed -- Vacek doesn't show.
Lamport Stadium
[1151 King Street W.]
A venue for soccer, football and lacrosse.
Seen in the background in "Gray" (across a field located to the left out of picture, at Liberty St. and Hardee Ave.) when Hardee gets off the bus to meet Michael.
Location: Confidential

This is a privately-owned residence in an upscale area on the outskirts of Toronto, used in "Someone Else's Shadow" and "Opening Night Jitters" as Salla Vacek's safehouse.
Metro Hall
[55 John St.]
Opened in 1992, Metro Hall houses the city's administrative offices, a public information center and the Urban Affairs Library.
In "Old Habits," this is where Michael and Nikita are posted to watch for the bomber.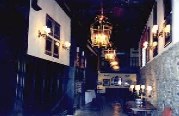 Moinho Velho District

This street in the Portuguese district of Toronto was used in an exterior shot in "Not Was."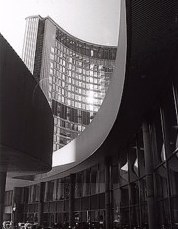 New City Hall
[Queen and Bay Streets]

In "End Game," this is where Nikita goes to present the Gemstone File data to her contact, only to find that he has already been taken out of play by Section.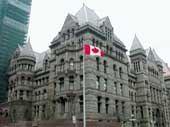 Old City Hall
[60 Queen St. W.]

In "Adrian's Garden," the Albert Street side of this building was used in the scene in which Marin is assassinated.
Queen's Quay
Shopping mall and subway terminal located at Harbourfront.
In "Love," this is where Nikita loses the man Alec Chandler has tasked with following her.
In "Choice," this is where Nikita momentarily loses Gray Wellman's daughter, Casey.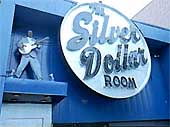 Silver Dollar Room
[486 Spadina Ave.]
Toronto's most famous blues bar.

In the opening sequence of "Outside the Box," this is where Nikita picks up Kruger.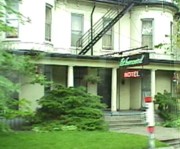 St. Leonard Hotel
[418 Sherbourne]
In "Approaching Zero," this is where Nikita and Jurgen collect Lt. Commander Ronald Arka.
Image courtesy of and © 2000 by Darceny/Patricia L. Webb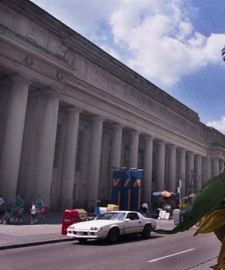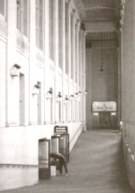 Union Station-Front Street
(left image)
In "Love," this is where Peter and Sage are picked up -- by Michael and Nikita.
(right image)
In "Third Party Ripoff," where Nikita and Michael begin the ripoff.
Directly across Front Street is the location used in "Third Person" in which Nikita and Jurgen have coffee.
Right image derived from Dawn Connolly's La Femme Peta (Toronto: ECW Press, 1999)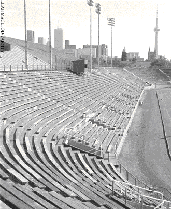 Varsity Stadium
[277 Bloor Street West]
Built by the University of Toronto in 1911, this sports facility had an illustrious history before being destroyed in August, 2002.

In "Escape," this is where, during a mission to rescue a captured Section operative, Eric initially plans to put his scheme to escape Section into action.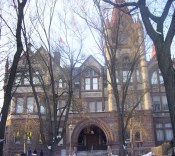 91 Charles Street West

In the opening sequence of "Voices," this is the embassy being staked out by Nikita and Michael. Behind Kelly Library on the same campus is the location used for the scene in which Crane attacks Nikita.