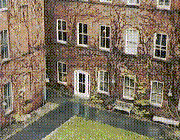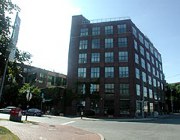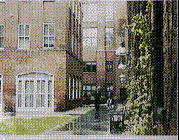 Berkeley Castle

Began as a yarnworks factory in the 1870s; was purchased in 1965 by the Toronto Storage Co. and was used for low income housing and workshops. Condemned in 1980, the complex was renovated in 1982 by an architectural firm. It now provides over 120,000 sf of office space (at $13.00 psf).The fourth and fifth floor are now two-level suites. [2 Berkeley St.]

Nikita's apartment was located here. Apt. 412 would actually be on the fifth level. (Only exteriors were shot at Berkeley Castle; the interior was actually a studio set.)

In "Escape", Eric approaches Nikita as she walks home through the courtyard seen in the left image.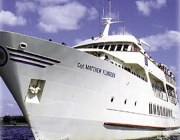 The Captain Matthew Flinders

Named after the explorer who circumnavigated Australia; flagship of Mariposa Cruises.

In "Charity", this was Chandler's yacht. (At the time, it was docked at Harbourfront.)

Casa Loma

The former estate of Sir Henry Pellatt, prominent Toronto financier, industrialist and military man. Pellatt was founder of the Toronto Electric Light Co. Begun in 1911, Casa Loma took three years and $3.5 million to build.
In "Verdict", this was Mijovich's embassy.
(right image)
In "Getting Out of Reverse" it was the Kazakstan Embassy destroyed by Nikita.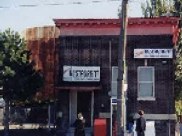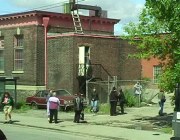 Cherry Street Restaurant

On Cherry Street, in Toronto.

Nikita is working here as a waitress in "Hard Landing" when the Freedom League abducts her. (The fight takes place at the back entrance, accessible by a flight of stairs seen in right image). In "Under the Influence", this is the hideout used by Karl and Nikita.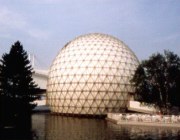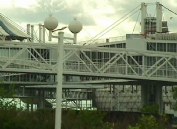 Cinesphere

The largest theater in the Toronto area, located in the Ontario Place entertainment complex, which includes restaurants, shops and a marina on the Lake Ontario waterfront.

(top image)
In "Last Night", the Brutus stronghold.
(bottom image)
In "Brainwash", the phasing shell lab at DeLure Electronics was located in the glass catwalks. (You can just make out the sphere in the background.)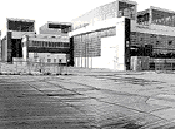 Downsview

Formerly a Canadian military base' it was closed in 1994 but is scheduled to become Canada's first National Urban Park.

In "Friend", where Nikita prevents Julie from assassinating Mijovich.

In "I Remember Paris", where Michael and Mick Schtoppel meet Freddy Allen's plane.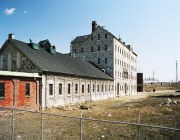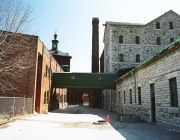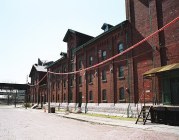 Gooderham & Worts

One of Toronto's oldest industrial sites, and used until recently as a distillery. Off-limits to the public. Redevelopment plans are afoot.
(left image)
In "Mercy", Where Stanley Shays is being held by the Freedom League, and Nikita fails to carry out her orders to kill him.
(middle image)
In "Rescue", Madeline hotwires a car.
(right image)
In "Rescue", the street outside Angie's apartment.
The location of Birkoff's undercover apartment in "Any Means Necessary".
images © Copyright 1998, 2002, Hans Boldt & Sylvana Grisonich-Boldt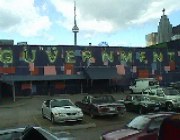 Government Club
[132 Queen's Quay East]

This night club is a favorite in Toronto's alternative music scene.

In "Treason", where Michael rescues Nikita from Suba. (The interior was used in several other episodes, as well.)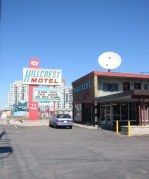 Hillcrest Motel
2143 Lakeshore

In "There Are No Missions", this is where Michael brings Adrian. Their room is at the end of building (right image).

right image courtesy of and © 2000 by Darceny/Patricia L. Webb
Holy Trinity Church
[Trinity Square, west side of Eaton's Centre]

Built in 1847 thanks to a gift by an anonymous donor, this church was a center of the "Social Gospel" movement during the Great Depression.

In "Gray", the church visited by Nikita and Gray on their walk.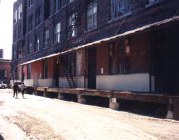 Liberty Street @ Fraser Avenue

In "Gray", this is where Michael was to meet Harding and recover The Directory, only to get into a firefight with Benko and his men.
Nathan Phillips Square
[Queen Street East]

In "Gray", this is where Nikita and Gray Wellman walk, and where Nikita is grabbed by Benko and fitted with the explosive collar.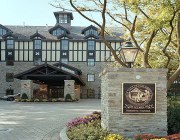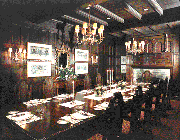 The Old Mill Inn

Initially opened as a tea garden in 1914, in an old mill (built in 1793) on the banks of the Humber River. The restaurant underwent major renovation/expansion in the 1970s.

(left image: front entrance)
In "Not Was", where Nikita, acting as chauffeur, delivers Michael.

(right image: The Royal Oak Room)
In "Not Was", where Michael is shot by one of Perez's men.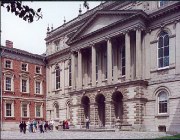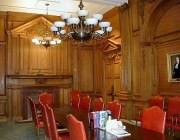 Osgoode Hall

Built in the early 1800s, this housed the Law Society of Upper Canada, and was named in honor of Ontario's first Chief Justice.. It's located at Queen and College Streets.
(left image)
In "Gray", Michael arrives here to bid against Benko for the Directory stolen by Harding.
(right image)
The bidding for the Directory takes place in Osgoode Hall's Martin Room. ("Gray")
In "New Regime", Michael's mission to recover the disk takes place at Osgoode Hall.
In "Under the Influence", Michael collects the toxin from Black in front of the building.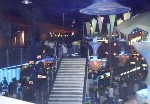 Playdium
An entertainment complex located in Mississauga (99 Rathburn Rd. W).

In "Simone", this is where Nikita and Michael search for and find the Glass Curtain recruiter.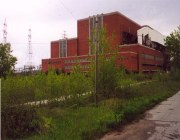 Richard Hearn Thermal Generating Station

In "Rescue", this complex served double duty, as both the hospital where Angie worked and the Klodno Chemical Plant.
Scarborough Bluffs
At Bluffer's Park, on Lake Ontario, just east of Toronto.

In "Slipping Into Darkness", Nikita (on the Siberian mission) refuses orders from Operations to kill innocents.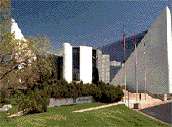 Scarborough Civic Centre
[150 Borough Dr.]

In the city of Scarborough, on the outskirts of Toronto. Designed by world-famous architect Raymond Moriyama.
In "Missing", Michael witnesses a Freedom League kidnapping of a Zylar Corp. scientist as he leaves this building.
Sculpture Garden
[115 King Street E. @ Jarvis St.]

A small urban park hard by Market Square, in Toronto's oldest neighborhood, featuring a collection of contemporary designs.

In the teaser of "Verdict", Nikita follows Michael to his rendezvous with an unidentified woman.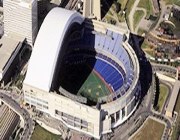 Skydome

This world-famous sports and entertainment facility, with its retractable roof, is home for the Toronto Blue Jays. Built in 1989.

In "Sleeping With the Enemy" this is the location of the exchange -- Madeline for Red Cell's Satin Tate.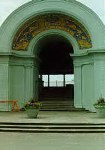 Sunnyside Pavilion

Originally called the Sunnyside Bathing Pavilion, constructed in the 1920s along the Toronto waterfront.
In "Choice," this is where Price rips off the drug dealers (interior courtyard).
In "Old Habits", this is where Michael, with the help of Formitz, captures Halir.
Union Station

Built by the Canadian Pacific Railway and Grand Trunk Railway, Union Station was touted as the largest and most opulent train station in Canada. It officially opened in 1927.

In "Love", Peter and Sage arrive here; Nikita and Michael search for the L-virus planted here by Bauer's man.

In "A Time For Every Purpose", Nikita and Michael part company for the last time here.

[Images courtesy of Toronto Archives]