La Femme Nikita X-Posed:
The Unauthorized Biography of Peta Wilson And Her On-Screen Character

Ted Edwards (Rocklin, CA: Prima Publishing, 1998)
189 pp; ISBN: 0761514546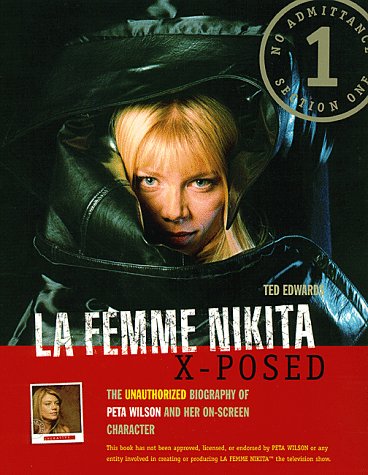 Contains a chapter on the way the Nikita concept was transferred from the big screen to television,
followed by a chapter-length bio of Peta Wilson. "La Guide Nikita" offers an episode guide of the entire
first season and part of the second, with an entertaining behind-the-scenes look at each
episode; also, Terri Malinski's "Idiot's Guide to Section One", an encyclopedia
(not nearly as thorough as LFNForever's, I might add!), and a list of online resources as of 1998.
back cover...
UNRESTRICTED ACCESS TO SECTION ONE'S SEXIEST OPERATIVE
She's smart; she's sexy; she's dangerous. She's television's most lethal heroine. So far, however, she's been as enigmatic as she is beautiful. You want to know more about her -- and about her real-life persona, Peta Wilson -- but until now everything about her has been classified. Now, access has been granted. With this book, you can uncover all the secrets Section One doesn't want you to know: Profiles on all operatives, dossiers on all missions, photographs of their beautiful agent at work. Now you can cut through the mystery and intrigue and get a glimpse into the soul of television's most captivating femme fatale.

Ted Edwards is a Los-Angeles based writer who has also written Herculas X-Posed for Prima Publishing.
Want to review La Femme Nikita X-Posed and have your review posted here?
Send to lfnforever@usa.com