Preview of CW's New Series "Nikita" and "Hellcats"
Aceshowbiz, 5.21.10
Both are sexy shows but in a different way since 'Nikita' will appeal to more adults compared to 'Hellcats' which is about a bunch of high-schoolers.
The CW said during its presentation on Thursday, May 20 that its new series will attract more men into its women-oriented programs. With the absence of "Melrose Place" and "The Beautiful Life: TBL", the network is able to slip in "Nikita" and "Hellcats". These two are very different in terms of their genre and target audience.
"Nikita", starring Maggie Q, is a spy action about a troubled teenager who was secretly trained as a spy and an assassin without her knowledge. Now, after three years in hiding, Nikita is seeking retribution and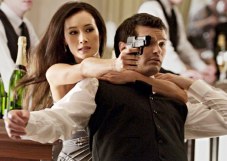 making it clear to her former bosses that she will stop at nothing to expose and destroy their covert operation.
"It's like watching an action movie every week," said Dawn Ostroff, the CW's president of entertainment, adding later, "I think it will appeal to men and women." After the presentation was wrapped up, head of sales ad Rob Tuck said, "The sweet spot for us is certainly females. But that show is definitely going to have a broad appeal. It's going to bring adult advertisers."
'Nikita'-Coming This Fall to the CW
Mark Whittington, Associated Content, 5.20.10
Nikita' is the latest version of the story of a convicted criminal who is recruited against her will to become an operative in a shadowy spy organization. It will air on the CW this Fall.
The franchise began with "La Femme Nikita", a film by French director Luc Besson starring Anne Parillaud and Tcheky Karyo. There was an Americanized version called "Point of No Return" starring Bridget Fonda. A TV series version of "La Femme Nikita" starring Peta Wilson appeared on the USA Network for several seasons. In the clip below, it looks like Nikita has escaped the spy agency, which in the previous TV show motivated their operatives with the fear of being "canceled" (i.e. executed.) But, as Michael Corleone once lamented, just when she thought she was out, "they" keep pulling her back in. The new "Nikita" looks like it has all the elements for this kind of thing, sexy clothing, fire arms, explosions, and a good looking heroine.
CW Greenlights "Nikita" Remake
Michael Schneider, Variety, 1.27.10

The CW has given a greenlight to its updated take on "La Femme Nikita."

....With its titled shortened to just "Nikita," the new take follows what happens when the original Nikita goes rogue -- and a replacement is brought in.

Craig Silverstein is writing and exec producing "Nikita," which comes from Warner Bros. TV and McG's Wonderland label. McG and Wonderland's Peter Johnson are exec producing.

Danny Cannon, who directed the "CSI" and "CSI: New York" pilots, is on board to helm "Nikita."

"Nikita" began as a 1990 French film by Luc Besson, and was later remade in the U.S. as the 1993 feature "Point of No Return."

The movie was then adapted in 1997 for the U.S./Canadian co-production "La Femme Nikita," adapted for TV by Joel Surnow and starring Peta Wilson. USA Network ran the show for five seasons, from 1997 to 2001.
La Femme Nikita: The TV Series -- Again!
The CW orders pilot for remake of French action film
IGN, 1.27.10
La Femme Nikita may be coming to TV again. The Hollywood Reporter says The CW has picked up a pilot to a new TV version of the French action film. The 1990 Luc Besson film has to be one of the most remade projects in recent memory, having first been turned into the Bridget Fonda film Point of no Return and then the USA La Femme Nikita TV series starring Peta Wilson.
The new version is executive produced by McG and his Wonderland productions company, who are behind Chuck, Supernatural and Human Target. Previous incarnations of the story focused on a young female criminal who is trained to become an assassin by a secret government organization. The new version could be seen as a sequel of sorts, as it involves the original Nikita going rouge and a new agent trained to replace her. No doubt this will have a lot of fans of the previous USA series hoping Peta Wilson can guest star as that previous Nikita…
The Nikita pilot is a notable one for The CW, who -- Reaper aside -- have spent the last couple of years primarily focused on teen and young adult themed soap, with some very mixed results. Then, the network's biggest hit this past year was The Vampire Diaries, which obviously also has teen girl appeal, but branched out into more genre fare. The Nikita pilot news seems to reinforce recent comments by CW's president Dawn Ostroff that we can expect the network to look into more genre material going forward.
McG...Sign[s] with CW
Scott Harris, TV Squad, 1.27.10
....CW has also greenlit a counter-programming alternative: 'La Femme Nikita.' This marks the second TV adaptation of Luc Besson's 1990 cult film of the same name; the original version, which was created by '24' masterminds Joel Surnow and Robert Cochran, ran for five years beginning in 1997, topping the syndicated ratings chart for its first two seasons. The new version, however, has an even bigger name at the helm: 'Charlie's Angels' director McG, who will be executive producing the series as a follow-up to Fox's current hot property 'Human Target.'
Few details are yet available regarding this new iteration, but the article does give some hints, stating that the new pilot spins out of the premise that "Nikita has gone rogue, and a new Nikita is being trained to replace her." No word on if Peta Wilson will be tapped to reprise her role as the original Nikita, but don't count anything out; after all, in addition to McG's presence, this new update is being developed by Wonder Sound and Vision, the people who are responsible for CW's cult smash 'Supernatural.'